Carmina in Style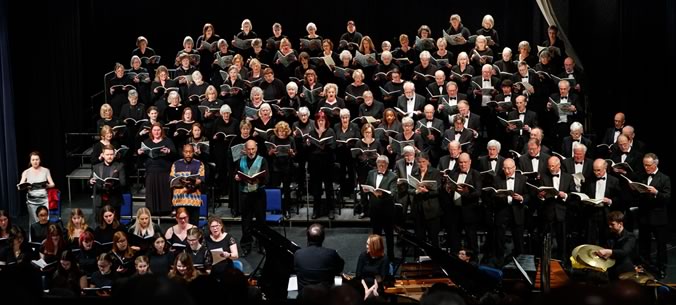 Last night the choir was joined by Madrigalis, directed by Beth Hodgson, the Keith Crompton Percussion Ensemble, pianists Jonathan French and Maki Sekiya, soloists Philippa Hyde, Peter Martin, and Njabulo Madlala, and narrator Graham Padden, for an astonishing performance of Orff's Carmina Burana. Before we began our Musical Director was at the piano for a performance of Bob Chilcott's A Little Jazz Mass, given by Madrigalis. This was a perfect way to settle the large audience down in the comfortable environs of Spinney Hill Theatre, and we heard the upper voices to great advantage.
| | | |
| --- | --- | --- |
| | | |
Carmina itself was simply stunning, not least due to Graham Padden's stunning narration. The work is sung in a mixture of Latin and High Medieval German, so without the narration the audience are left scrabbling for their programmes to try and follow the words. And the snag is, that the work is so fast that the words fly by unbelievably quick! Graham knows the work from the inside (he has been a choir member for many years), but also has a career as a professional actor, and his script struck the perfect balance between being vivid and allowing the music to flow.
| | | |
| --- | --- | --- |
| | | |
We were joined by three stunning soloists - Philippa Hyde standing in for a Covid-absence (Jessica Smith), Peter Martin also standing in for a Covid-absence (Rhys Batt), and the astonishing voice of Njabulo Madlala. Our two virtuosic pianists and team of percussionists completed the set. We are so lucky to have access to this super venue with its excellent facilities (and excellent parking) and offer thanks to Philip Cave who worked magic with light, sound, and staff. Thank you.