| | |
| --- | --- |
| | 2022 |
| | |
| --- | --- |
| | 2021 |
| | |
| --- | --- |
| | 2020 |
| | |
| --- | --- |
| | 2019 |
| | |
| --- | --- |
| | 2018 |
| | |
| --- | --- |
| | 2017 |
| | |
| --- | --- |
| | 2016 |
| | |
| --- | --- |
| | 2015 |
| | |
| --- | --- |
| | 2014 |
Monteverdi Vespers Success!
St Matthew's Church was packed last night with both audience (our largest in recent years) and performers! Nearly 110 members of the Northampton Bach Choir were joined by the 25 members of the Malcolm Arnold Academy Chapel Choir, 6 soloists, and the 12 players of the period orchestra Charivari Agréable - that's over 150 musicians.

The concert began in dramatic style with a solemn procession of soloists from the rear of church, accompanied by a marching drum beat and drones in the orchestra ... the tenor soloist Gwilym Bowen made his way to the very top of the choir staging, turned round, and on the loudest stroke of the drum, the drones were silenced and we began. Singing the first movement from memory the choir gripped the audience from the very moment they began to sing.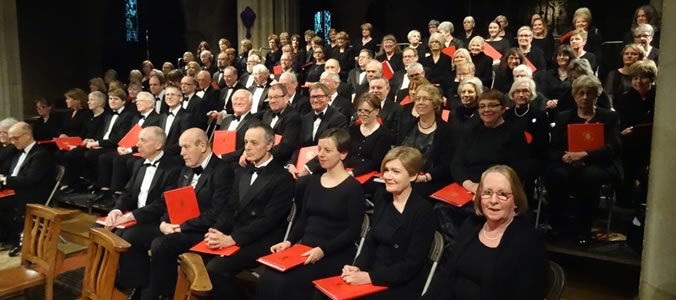 Using our own Musical Director's edition of the score, we were able to weave plainsong into the performance, sung by the men of the choir, and many of the choruses used our six soloists in ensemble, to create dramatic tension between smaller and larger groups of singers. Indeed, the Director of Charivari Agréable wrote to say:
What an evening of revelation it was for me, Lee! I thought I knew the work like the back of my hand, but you showed us how to make the quirky and uneven Vespers work for a large choir. And it was a stroke of genius to give the semi-chorus elements to the soloists. Please thank the Northampton Bach Choir for the very many beautifully-shaped phrases, exquisite pianissimos, raging fortissimos ... the gentle ebb and flow of the Ave Maris Stella was particularly memorable, especially the lozenge dynamics at the closing Amen.

After the Interval the second half began in silence, with tenor Gwilym Bowen on stage, and the echo tenor Robert Anthony Gardiner, accompanied by chitarrone in the far distance by the High Altar. The drama continued right through the remainder of the concert, not least with the addition of both the full chorus and a superb soloist from the Malcolm Arnold Academy Chapel Choir in both the Sonata and the Magnificat. A member of the audience wrote to say:

What a fantastic performance which I enjoyed almost more than any other Bach Choir concert despite my misgivings about this era of music. I am full of admiration for the way in which you can put together such a complex performance with soloists (all excellent), the specialist orchestra and the choir.

The choir now have a well-earned break before beginning rehearsals next term for both our July concert performance of the Requiem settings by Maurice Duruflé and Gabriel Fauré, as well as for our tour to Venice at the end of May.