| | |
| --- | --- |
| | 2022 |
| | |
| --- | --- |
| | 2021 |
| | |
| --- | --- |
| | 2020 |
| | |
| --- | --- |
| | 2019 |
| | |
| --- | --- |
| | 2018 |
| | |
| --- | --- |
| | 2017 |
| | |
| --- | --- |
| | 2016 |
| | |
| --- | --- |
| | 2015 |
| | |
| --- | --- |
| | 2014 |
2021/22 Season Launched

We are delight to announce dates and programmes for our 2021/22 season. Our last concert was on Saturday 23 November 2019, and little did we know that the Covid-19 pandemic would mean that it would be just short of two years before we would be able to put on another concert. Along the way we lost planned performances of Beethoven's Missa solemnis, Bach's St John Passion, Bruckner's Mass in E minor, and much more. Through Zoom we were able to continue to sing, albeit in a frustrating manner (!), but we believe that those days are now behind us and whilst some adjustments may still need to be made, we will be able to present a full season of concerts over the coming twelve months.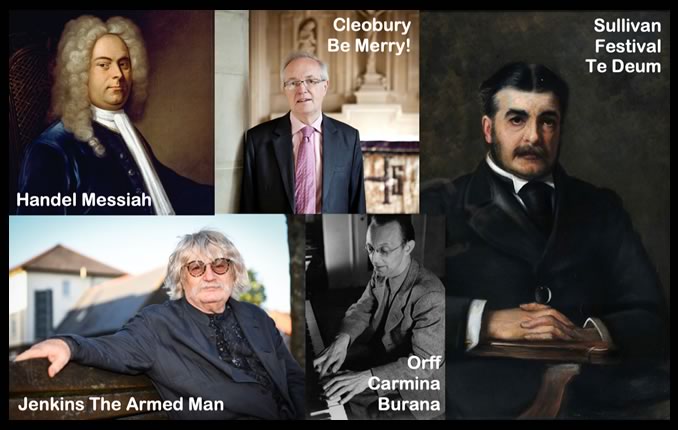 Where else could we begin but with Handel's masterpiece, Messiah? Handel composed his most famous piece in 1741, and continued to work on it after its initial performance, finally arriving at the version we know today in 1754. Impressive solo arias, like Every valley shall be exalted and Rejoice greatly, O daughter of Zion, are interspersed with compelling choruses - not least the great Hallelujah chorus and the final crowning glory, Worthy is the Lamb. Handel's oratorio, to Charles Jennens' remarkable libretto, tells the story of Jesus' birth, life, death, resurrection, and final victory over sin and death. We are delighted to be joined by period orchestra Charivari Agréable and a stellar cast of soloists for this performance, which will be given in Spinney Theatre.



We are delighted to extend a welcome to Adele Hudson and Rushden Town Band, following their breathtaking contribution to our performance of Berlioz's Grande Messe des Morts in June 2019, for our Christmas 2021 celebration. The programme title, Be Merry! Carols for All, stems from the superb carol written by our former Musical Director Sir Stephen Cleobury who passed away in November 2019, which will open the concert. A number of the choir's hallmark carols will be heard for the first time in arrangements for choir and brass band, alongside a number of your favourite Willcocks arrangements with the added pizazz of brass. This matinée concert takes place at The Old Savoy (formerly known as The Deco) in the heart of Northampton.
| | | |
| --- | --- | --- |
| | | |
Commissioned by the Royal Armouries to mark the transition from 1999 to 2000 The Armed Man: a Mass for Peace reflects on the passing of "the most war-torn and destructive century in human history" and looks forward in hope to a more peaceful future. Dedicated to the victims of the Kosovo conflict, whose tragedy was unfolding as it was being composed, it was first performed in 2000 by the London Philharmonic Orchestra and the National Youth Choir of Great Britain, conducted by Jenkins himself. We are delighted to have been invited by the Royal Philharmonic Orchestra to perform the work with them under the baton of guest conductor Adrian Partington in this matinée concert at the Derngate.
| | | |
| --- | --- | --- |
| | | |
Fortune spins her wheel. Who will win, who will lose? Our third major work of the season is Carl Orff's Carmina Burana, composed in 1935/6 and setting words from 24 secular (in some cases very secular) poems from medieval literature. Whilst it was originally scored for choir, soloist, and a vast orchestra, we will perform it in Orff's own version where the accompaniment is provided by two virtuoso pianists at two pianos and no fewer than six percussionists. We are also delighted to be joined by three stellar solo singers, a children's chorus, and - in a special innovation - a dramatic narration (very helpful, as the work is sung in a mix of medieval German and Latin, with words whizzing by at 100mph). This will be our second concert of the season at Spinney Theatre.
| | | |
| --- | --- | --- |
| | | |
Our final concert of the season marks the Platinum Jubilee of Her Majesty Queen Elizabeth II and brings together full orchestra, wind band, soprano Katherine Crompton, and another guest chorus alongside our own choir. We are delighted to present a concert of Royal favourites - think Handel's Zadok the Priest, Parry's I was glad, Jerusalem, and much more - in this celebration which will take the familiar form of a "Last Night of the Proms". The major work on the programme is Sir Arthur Sullivan's Festival Te Deum, which was dedicated (with permission) to another great Queen - Victoria. This will be our second Derngate concert of the season, and we will be pulling out all the stops to make it the grandest occasion imaginable. Don't miss it!