| | |
| --- | --- |
| | 2022 |
| | |
| --- | --- |
| | 2021 |
| | |
| --- | --- |
| | 2020 |
| | |
| --- | --- |
| | 2019 |
| | |
| --- | --- |
| | 2018 |
| | |
| --- | --- |
| | 2017 |
| | |
| --- | --- |
| | 2016 |
| | |
| --- | --- |
| | 2015 |
| | |
| --- | --- |
| | 2014 |
Stephen Cleobury 1948 - 2019
Conductor, Northampton Bach Choir 1971 – 1974

Stephen Cleobury was appointed conductor of the Northampton Bach Choir in the summer of 1971 shortly after graduating from St John's College, Cambridge where he was Organ Scholar under George Guest. He was also appointed organist of St Matthew's Church, Northampton, and for a time taught music at Northampton Grammar School for Boys.

Stephen was born in Bromley, Kent, where his father was a GP and his mother worked as a nurse. His siblings, Nicholas and Judy, also became musicians, Nicholas being an Organ Scholar for Simon Preston at Christ Church Cathedral, Oxford, and subsequently developed a career as a conductor. The family subsequently moved to Birmingham and then Canterbury.

In January 1958 Stephen auditioned successfully for the choir at Worcester Cathedral and he became a boarder at The King's School, Worcester although much of his life as a pupil there was focused on music and the Cathedral. Whilst a chorister at Worcester under Douglas Guest, at the age of 12 he sang in a Three Choirs Festival performance of Verdi's Te Deum amongst other works, had lessons on the organ and learnt to play viola.

He became Organ Scholar at St John's College, Cambridge, under the tutelage of George Guest, and whilst there, Stephen also helped with the training of the College Choir, ran the College Musical Society and was involved with a number of separate productions. He accompanied the college choir in their many broadcasts and recitals, as well as foreign tours including a three week tour to Canada and the USA in 1970.

His first concert with the Northampton Bach Choir was on 20 November 1971 when the choir sang Vivaldi's Gloria and Britten's St Nicolas. Maurice Dunmore, the Chronicle & Echo's music critic praised the performance but commented that 'Perhaps the performance would have profited from some sacrifice of accuracy to allow the choir to lift the music from the score more often. Understandably careful on his first occasion with the Bach Choir Mr Cleobury will no doubt find he can relax a little and trust these singers.'


Highlights of Stephen Cleobury's tenure with Northampton Bach Choir included a Mozart Requiem, Rossini's Petite Messe Solenelle, Bach's St Matthew Passion (in which Brian Kay sang the Christus). There was plenty of Bach and an annual Carol Concert in the Guildhall. Members of the choir who sang under Stephen's direction can recall his insistence on accuracy, his dry sense of humour, and it was even then clear that Stephen was destined for higher things. It was also a joy that his wife, Penny, came and sang in the soprano line.

When Stephen left Northampton in 1974 he became sub-organist to Douglas Guest, then in 1979 he moved along Victoria Street to Westminster Cathedral where he stayed until his appointment in 1982 as Director of Music at King's College, Cambridge in succession to Philip Ledger.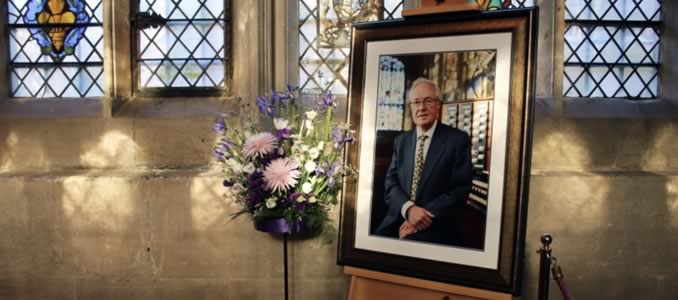 Stephen became conductor of Cambridge University Musical Society in 1983, was appointed University Organist in 1986 and Principal Conductor of the BBC Singers in 1995, a position he held until 2007.

At King's he had a hectic year-round schedule of rehearsals, concerts, recordings and services culminating each year in the traditional Service of Nine Lessons & Carols broadcast around the world on Christmas Eve. He commissioned many new carol settings from distinguished composers including Bob Chilcott, John Taverner and Arvo Pärt, many of which have now entered the standard repertoire. His own arrangements featured in many of the Nine Lessons & Carols broadcasts, and we were honoured that in 2010 he dedicated his arrangement of the traditional Shropshire carol It was under the leaves and the leaves of life to us, and we duly recorded it on our CD Congaudeat! His discography included 4 DVDs, 6 CDs as organist, and some 37 CDs as conductor.

Stephen was appointed CBE in 2009 and knighted in the Queen's Birthday Honours in 2019. He retired in June 2019 after 37 years at King's and moved to live in York. He leaves behind a lasting musical legacy, many friends world-wide, and some of us were indeed privileged to sing under his baton in those early years of his illustrious Career.