| | |
| --- | --- |
| | 2022 |
| | |
| --- | --- |
| | 2021 |
| | |
| --- | --- |
| | 2020 |
| | |
| --- | --- |
| | 2019 |
| | |
| --- | --- |
| | 2018 |
| | |
| --- | --- |
| | 2017 |
| | |
| --- | --- |
| | 2016 |
| | |
| --- | --- |
| | 2015 |
| | |
| --- | --- |
| | 2014 |
Christmas Choral Alphabet

Following our Choral Alphabet over the Summer of 2020 focusing on choral composer surnames from Kerry Andrew to Jan Dismas Zelenka, and our Concerto for Ten over the Autumn half-term focusing on ten unusual instrumental concertos, over Christmas we have had our Christmas Choral Alphabet!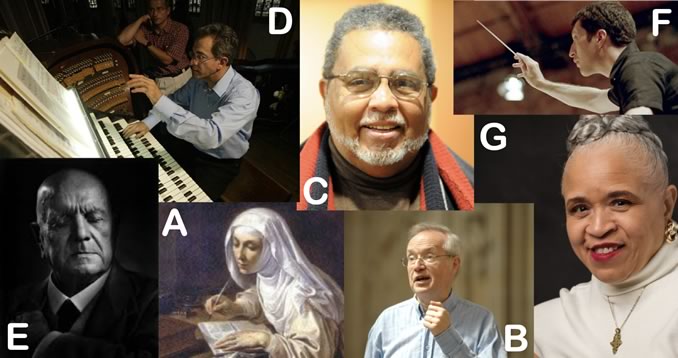 This time the alphabet was for Christmas choral works, and the alphabet was not by composer surname but by the title of the work. So we began with Angelus ad pastores ait, followed by Be Merry, and Carol for all Children, and ended with our special Zoom Carol!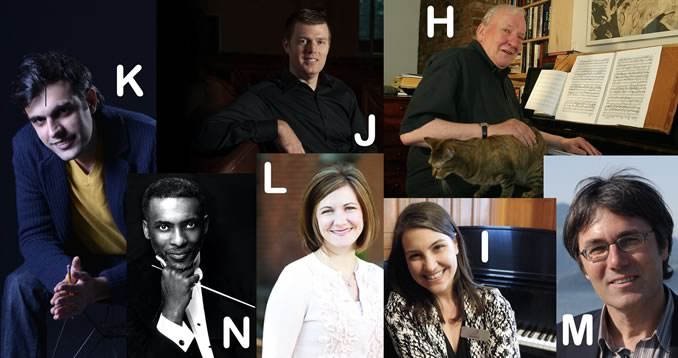 Again we had a wonderfully diverse selection of music and composers, including a huge number we had not encountered before, from all across the globe, and one or two which had been specially recorded or uploaded for us to hear.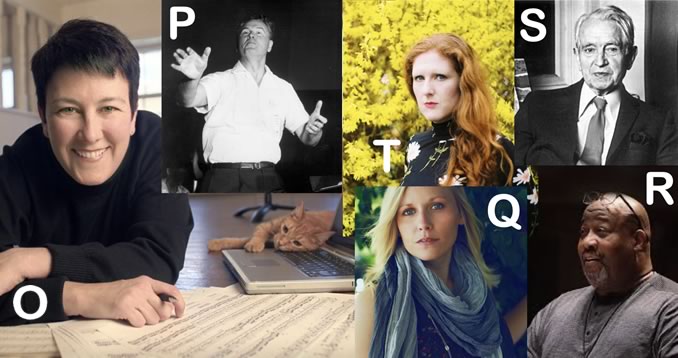 This website's editor particularly enjoyed the entries for E, M, S, and U, which you can hear by clicking on the links at the bottom of the page. Special mention must be made of the Zoom Carol. The words were specially written to conclude the Christmas Choral Alphabet by Gesa Beales, Chairman of the Wellingborough Singers, to fit the music of Sir Malcolm Sargent's arrangement of the Zither Carol. The Wellingborough Singers recorded this for us in a virtual choir video (see link below) - with one or two of us joining them - and this video has, to date, been watched by over eight thousand people online, and has been shared by dozens of choirs and individuals. It is very witty indeed, and reflects exactly how many of us feel about singing on Zoom. Thank you, Gesa!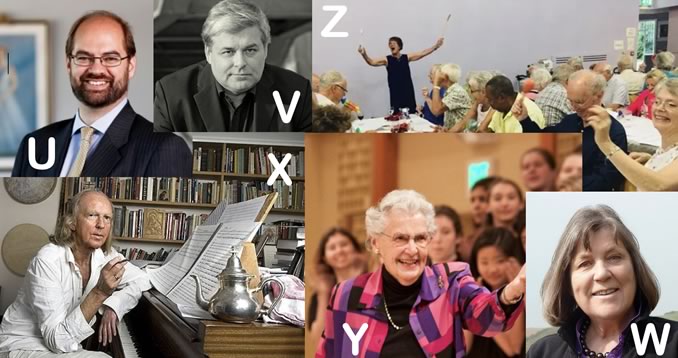 If you missed these twenty-six posts, each made on our Facebook and Twitter streams at 8:00am throughout December, you can work through them one-at-a-time by clicking on the links below!
A - Angelus ad pastoris ait - Raffaella Aleotta
B - Be merry - Stephen Cleobury
C - A Carol for all Children - Adolphus Hailstork
D - Ding Dong! merrily on high - arr. Naji Hakim
E - En Etsi valtaa, loistoa - Jean Sibelius
F - Fayrfax Carol - Thomas Adès
G - Go tell it on the mountain - arr. Evelyn Simpson-Currenton
H - The Holly and the Ivy - Richard Rodney Bennett
I - In the bleak midwinter - arr. Abbie Betinis
J - Carol of Joy - Dan Forrest
K - Khorurd Metz - arr. Vahram Sarkissian
L - Lullaby Carol - Molly iJames
M - My dancing day - Carl Rütti
N - African Noel - Andre Thomas
O - O magnum mysterium - Jennifer Higdon
P - Personent hodie - arr. Lara G. Hoggard
Q - Quem pastores laudavere - arr. Susan La Barr
R - Rise up, shepherd - arr. Stacey V. Gibbs
S - A Spotless Lamb - Herbert Howells
T - There is no Rose - Cheryl-Frances Hoad
U - Unto us is born a Son - arr. Aidan Liddle
V - Venite, Gaudete - Adrian Peacock
W - What cheer? - Rhian Samuel
X - Ex Maria Virgine (Nowell! Nowell!) - John Tavener
Y - Ya Viene la vieja - arr. Alice Parker
Z - Zoom Carol - arr. Malcolm Sargent