The German composer George Frideric Handel (1685-1759) composed Messiah in 1741 and it remains his best-known work, with its famous "Hallelujah Chorus" performed by choirs the world over.

Handel enjoyed enormous commercial and artistic success during his lifetime, particularly in England where he settled and later became a citizen. He was initially best known as an opera composer but, as public taste changed and his operas did not succeed he concentrated on composing oratorios. Like operas, these told a story using solo singers, a chorus and an orchestra, but without staging or actors who played a consistent rôle throughout. Despite this development Handel's work during the 1730s received mixed reactions, and by 1741 it was rumoured that he would leave England.

In July, however, Handel received an invitation to visit Ireland, and this prompted him to start work on his friend and collaborator Charles Jennens's idea for a 'scripture collection' on the subject of 'Messiah'. Handel completed the work in September of the same year and it was performed in April 1742 in Dublin to an enraptured audience.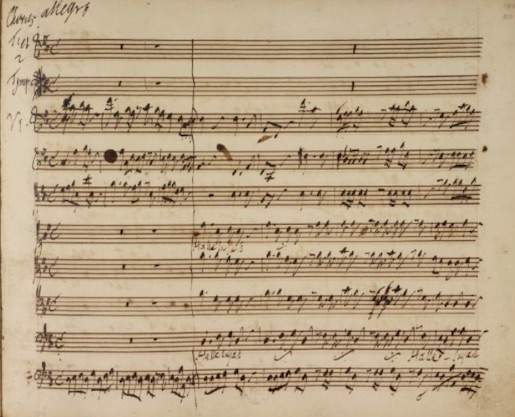 The Northampton Bach Choir last performed Messiah in November 2011. This year's performance will be accompanied by our own orchestra and soloists, and there will be one or two surprises along the way! Below you can see a photo of one of the pages of Handel's manuscript … you can see more of the manuscript via the British Library website.
Programme:
Northampton Bach Choir

Conductor - Lee Dunleavy