In this final concert in our Wond'rous Machine series, we mark not only the centenary of the 1918 Armistice, but also the death of the great English composer, Sir C. Hubert H. Parry (1848-1918). Parry came from a family of some distinction. He was the second son and third surviving child of Thomas Gambier Parry by his first wife. His father's maternal great-uncle was Lord Gambier, Admiral of the Fleet, whose name he had taken, while Thomas Parry himself inherited a fortune from his own father, a director of the East India Company. He studied at Eton College and the University of Oxford (although his studied there were in History and Jurisprudence), and after a brief period working at Lloyd's of London, soon began to make his name as a composer of remarkable music. By 1882 he was appointed Professor of Music History at the (then new) Royal College of Music, and offered an Honorary Doctorate in Music at the University of Cambridge. He was later appointed Director of the Royal College of Music, with further honours following: a knighthood in 1898, the chair of music at Oxford in 1900, and a baronetcy in 1903. He died on 7 October 1918, a month before the Armistice.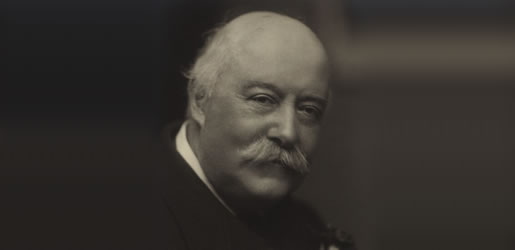 The Sir C. Hubert H. Parry (1848-1918)
His music is well-known at the great Royal occasions of our Nation – his coronation anthem I was glad when they said unto me, and his hymns Dear Lord and Father of mankind and Jerusalem, are regularly included in such services. His 1887 work, Blest pair of sirens, was written to mark the Golden Jubilee of Queen Victoria, and it has been a firm favourite of both audiences and singers alike ever since. Of its first performance The Times wrote: "The choral writing is in eight parts and abounds in contrapuntal devices. At the same time the spirit and the accent of the words are carefully attended to, as befits a work in which "sphere-born harmonious sisters, voice and verse" are invoked to "wed their divine sounds, and mix'd power employ". An excellent rendering contributed to the brilliant success of the ode".

In contrast to these grand pieces for our Royal ceremonies stands his Songs of Farewell. Versions of the first four motets included in Songs of Farewell had been largely completed by 1913 and in the years immediately following were revised and refined, augmented by the addition of two further motets. The first five motets had their first public performance in 1916 under Hugh Allen, who also conducted the first public performance of the last of the set, verses from Psalm 39, at New College, Oxford, in 1917. All six motets were sung in 1919 under Allen at a Memorial Concert in Oxford. The Songs of Farewell are a persuasive reminder of Parry's significant contribution to the English choral tradition. For Parry, as for everyone, the appalling events unfolding across the channel during the First World War were desperately agonising. As the Parry scholar Professor Jeremy Dibble says in his definitive biography, Parry experienced "an incredulity, combined with a profound sense of betrayal, that a nation of artistic heroes who had taught him everything … could be capable of such carnage".

By the time Parry was composing the Songs of Farewell he knew that he had not long to live. Though they are Parry's own valediction – he died two years after their completion – they can also be seen as his farewell to the rapidly vanishing world of his youth. Common to all the texts are the contrasting themes of the transitory nature of life and the redeeming power of faith. The motets are to a large extent expressions of personal belief rather than orthodox liturgical works; only the final setting has a recognised sacred text. This masterpiece concludes the concert, and ties together this programme – a Royal Remembrance.
We are delighted to welcome members of the Huntingdonshire Philharmonic Choir, of which our Musical Director is the Chorus Master, to join us for this concert. There will be a repeat performance of this concert programme on Saturday 27 October 2018 at 7:30pm in St Mary's Church, Godmanchester. This repeat performance is given by the Huntingdonshire Philharmonic Choir, with a small number of our members joining them for this concert.
Programme:
Northampton Bach Choir

Organ – Ivan Linford
Conductor – Lee Dunleavy

Works by Sir C. Hubert H. Parry:

Songs of Farewell (35')
Blest Pair of Sirens (11')
I was glad when they said unto me (6')
Fantasia and Fugue in G (organ solo, 11')

… and Hymns and Organ Preludes by Parry …

Abide with me
Dear Lord and Father of mankind
Jerusalem
O God, our help in ages past