Over the last two centuries the churches and cathedrals of Paris have been powerhouses of creativity, with composers producing countless masterpieces for choirs and the organ.

This concert – the third in the Wond'rous Machine season – gives a taste of that typically French sound with two monumental Mass settings written for the choir and organs of the Cathédrale Notre-Dame de Paris – Vierne's grand and romantic Messe solennelle of 1899, and Yves Castagnet's virtuosic and intense Messe "Salve Regina" of 2002/7. The choir is quite used to the sound of this great Cathedral, having sung a Mass there in 2013, where Castagnet himself accompanied us in the congregational parts of the service. Both works were originally composed with the two organs of the Cathedral in mind – with two separate players at the West and East organs, but the parts have been condensed into one, and performed with typical flair by the organist of Southwell Minster, Simon Hogan, on the grand four-manual Walker organ of St Matthew's Church.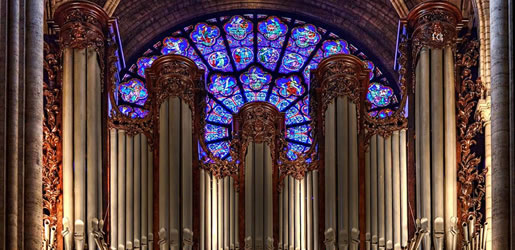 The Organ of Notre-Dame de Paris
The smaller choral works in the concert includes Poulenc's Litanies à la Vierge Noire for ladies' voices and organ, in which Poulenc expresses the peace and devotion of the ancient pilgrimage site Rocamadour after visiting it following the death of a dear friend. The music of Marcel Dupré is also represented in two of his Quatre Motets – the restful, arching melodies of his O salutaris hostia, and his fiery setting of Laudate Dominum, which concludes our first half.

The concert also includes two organ solos – Jehan Alain's Litanies, and Maurice Duruflé's Prélude et Fugue sur le nom d'Alain. Alain wrote a number of brilliant and truly original organ works. At the start of World War II, he served as a dispatch rider in the French army. When on reconnaissance, hearing approaching Germans, he abandoned his motorcycle and engaged the enemy with his rifle, killing sixteen of them before being killed himself. He was reportedly found beside his motorbike, with music papers lying all around. The death of this hugely talented composer at the age of only twenty-nine greatly moved his friend and colleague Maurice Duruflé, who composed a Prelude and Fugue in his memory. Founded upon a melody which translates the letters A-L-A-I-N into music (the pitches A-D-A-A-F), and quoting Alain's Litanies, the work moves from an evocation of the young composer's creativity in the Prelude, through his death in the Litanies quote, and into a Fugue which portrays a resurrection of sorts, ending in a true blaze of glory.
Programme:
Northampton Bach Choir

Organ – Simon Hogan
Conductor – Lee Dunleavy

Vierne – Messe Solennelle (25')
Duruflé – Prélude et Fugue sur le nom d'Alain (12')
Dupré – O salutaris hostia and Laudate Dominum (8')

… Interval of 15 minutes …

Poulenc – Litanies à la Vierge Noire (10')
Alain – Litanies (5')
Castagnet – Messe "Salve Regina" (28')