To kick off our season – Wond'rous Machine – celebrating the great wealth of music for large chorus and symphonic organ, we start on the grandest scale imaginable … a ninety-minute symphony with a chorus of 250 voices! Originally composed for large chorus and orchestra of over 100 players, we perform Mahler's masterpiece in a transcription made and performed by David Briggs, where all the orchestral parts are performed by the two hands and two feet of one organist! David is known across the globe for his brilliant organ transcriptions of symphonic music by composers such as Bach, Bruckner, Elgar, Ravel, Schubert, Tchaikovsky, and – of course – Mahler. He has transcribed (and recorded) both of Elgar's Symphonies and five of Mahler's Symphonies (Nos. 2, 3, 5, 6, and 8; his transcription of Mahler's Symphony No. 4 will be premièred at King's College, Cambridge, in February 2018). He is currently Artist-in-Residence at the Cathedral of St John the Divine, New York City, and is Organist Emeritus of Gloucester Cathedral, and former Director of Music of Truro Cathedral.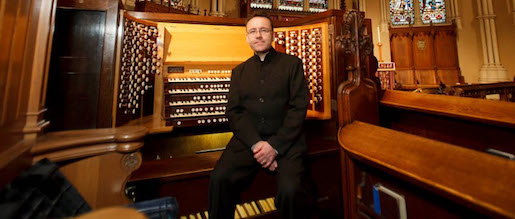 We are delighted to be joined once again by the Daventry Choral Society and the Chapel Choir of the Malcolm Arnold Academy, and for the first time in recent years by the Wellingborough Singers. Our soprano soloist, Alison Roddy, is an international opera and concert soprano. Born in Dublin, she has sung over a dozen leading roles as a principal soprano at English National Opera, as well as singing at other leading opera houses all over the world, from Vienna to Ottawa to New Zealand.

Because of the nature of this Symphony, there will be a large video screen, visible from all the central seats and many of the side aisle seats, which will enable the audience to see as well as hear the organist at work. The Symphony is performed without an interval, and light refreshments will be available at the end of the concert, at approximately 9:00pm.
Programme:
Northampton Bach Choir

… with guest choirs …

Daventry Choral Society
The Wellingborough Singers
The Chapel Choir of the Malcolm Arnold Academy

Soprano – Alison Roddy
Mezzo Soprano – Jeanette Ager
Organ – David Briggs
Conductor – Lee Dunleavy

Mahler – Symphony No. 2 "Resurrection"